Checking shift of stone position during laser marking
System checks shift of stone position during scanning and marking. If it discovered the stone shift a warning message will be displayed. This option is especially useful during working with pump without gluing of stones on holders.
System determines shift by comparison of current position contour with base contour. If they are equal it allows to work further.

If system discovers shift of stone before laser marking the follow warning message will appear:

Note. The same warning message will appear if system discovers shift before Laser mapping mapping process executed separately from shadow scanning.
If system discovers shift of stone during marking process the follow warning message will appear:

*To see base contour of stone before its shift select from Show base contour in menu of Marking out panel: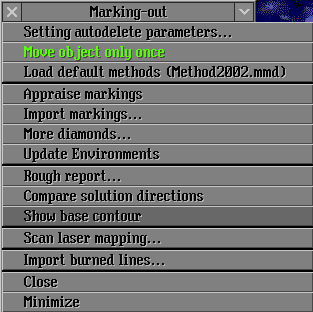 See base contour marked as green line and a photo of current stone position: