Object List Window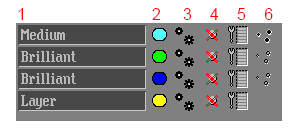 1. You can change the name of the Medium by clicking on this Block and typing any new name
2. Second Small Circle Besides this is the visible / Not visible button. Left Click will make it visible or invisible, Right Click will open up new menu for Lights and reflection for that model
3. Third Button is for Selection. That is you can just select the Layer here to move the layer alone. If nothing is selected then all the objects seen on the screen will move.
4. Fourth Button is for removing that object from the scene. Please note that this object is still available from Figures panel
5. Fifth button is the property of the object. Left button click here will give you the properties of that object and Right click can give you more options along with the panels and other options like sawing or defect managements.
6. Sixth button is for reflections of Defects. When you switch on the reflections in defect1, it will show the reflected position of the impurities as seen by a Human Eye. Switching it off will give the actual location of the impurity. You will learn in later stages how to insert the impurities.